Artists' News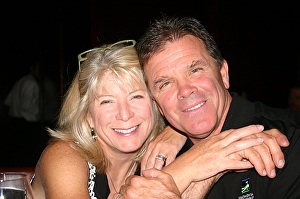 Celebrating Us!
I am very honored to have my painting "Pacific Coast Morning" juried into The Oil Painters of America's 22nd Annual Juried Exhibition, held this year at Insight Gallery in Fredericksberg, Texas. May 18- June 17, 2013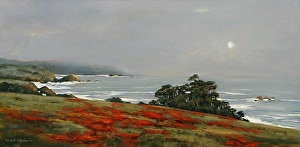 Pacific Coast Morning 15 x 30

I am excited to be included again this year in the Salon International at Greenhouse Gallery in San Antonio Texas. I will have 3 paintings in the show this year, April 2013. Also I will be returning to the the Women Painters of the South East show, hosted this year by Imagine Gallery in Franklin, Tenn. April 2013.
I have been invited to show in the "Maritime Miniatures by Maritime Masters" this December 2012 at the Maritime Museum at Mystic Seaport, Mystic CT. Also one of my paintings, Miss Hope, was selected for their "International Marine Art Exhibition" which will continue through January 2013.
www.mysticseaport.org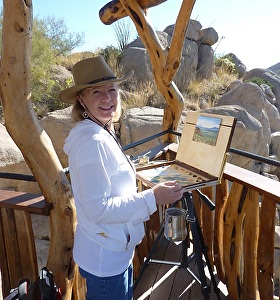 Painting at the Arizona Sonora Desert Museum
Our American Women Artists show this year, opening November 2, 2012 will be hosted by K. Newby Gallery in Tubac, Az. Coinciding with this show, we will also have a Master and Signature Show at the Arizona Sonora Desert Museum in Tuscon, AZ.
WPAE (Women Painters of the SouthEast)
Our First Annual Juried Member Exhibition held at the Corse Gallery, Jacksonville, Fl. April 28, 2012.
SO pleased to be honored with the "American Art Collector Award of Excellence", for my painting "Last Light", 20 x 20.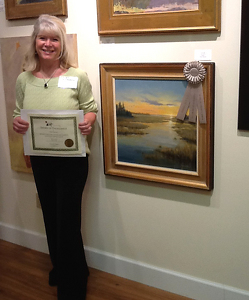 Oil Painters Of America
A huge honor to have my painting "Grazing" selected for Oil Painters of America's 21st Annual National Exhibition. Hosted this year by Evergreen Fine Art Gallery in Evergreen, CO. A great event with the finest art across the nation! Looking forward to seeing this show! Show will be posted soon at:www.oilpaintersofamerica.com
Scottsdale Salon of Fine Art
Legacy Gallery, Scottsdale, Arizona
April 20- May 20, 2012
I am pleased to announce that the staff at Legacy Gallery has chosen my painting "Thermal" to be included in the2nd Scottsdale Salon of Fine Art. The art in this show is some of the best across the nation. Check out this great show at:htts://www.Legacygallery.com.
Three of my paintings have ben juried into the Salon International 2012 held at Greenhouse Gallery in San Antonio Texas. The show will run from April 14- May 4th. There were over 1100 submissions this year. The staff at Greenhouse always does such a great job with this show, the banquet is alot of fun, quite elegant and really good food! One of my three paintings is featured below, "Pacific Coast Morning" 15 x 30, Oil. See the entire show at:http://www.greenhousegallery.com.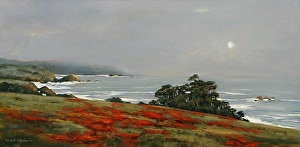 This article was published in Outdoorpainter.com December online issue:
Monday, 19 December 2011
Extreme Painting
Written by Steve Doherty
When North Carolina artist Paula B. Holtzclaw joined other members of the American Impressionist Society in Carmel-by-the-Sea, California in October, 2011, she painted near the Pacific Ocean. "Almost as soon as I began to record the beautiful coastline, the fog came rolling in!," she remembers. "Once again nature gave me a lesson in adapting to what happens outdoors." For more information, visit her website at www.paulabholtzclawfineart.com.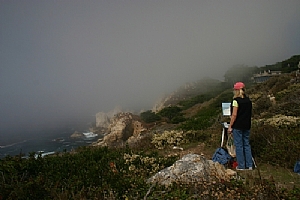 The September 2011 issue of SouthwestArt featured me and my studio.....and my constant companion "Timber", my "velcro" Golden Retreiver. This was such a fun interview to do!! My thanks to SouthwestArt.

American Impressionist Society, Inc. 12th Annual National Juried Exhibition 2011
"Autumnus" 30 x 24 and "Clearing" 6 x 6 have been invited for inclusion in the 2011 AIS show at Mountainsong Galleries, Carmel-By-The-Sea, CA. in October of this year. With over 1400 entries, being narrowed down to approximately 180 paintings, I am sure the work will be outstanding. And what a beautiful area of California!

YEAA! I have just been invited, and awarded Signature status with the American Women Artists (AWA). Thank you to this wonderful, talented and supportive group of Women Artists. Our National Member and juried show this year will be held at Huff Harrington Fine Art, Atlanta, Georgia October 14- November 3, 2011. Opening reception will be from 6-8 pm October 14.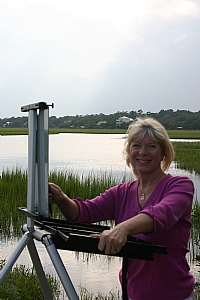 Fun, Fun Fun! Painting for my solo show coming up this labor day at the Cheryl Newby Gallery in Pawleys Island, SC. It will showcase approzimately 15 new paintings focusing on "Carolina by Land and Sea" Watch the gallery site www.cherylnewbygallery.com for images of the paintings. The show opening is September 3, 6-8 pm and runs through October 1, 2011.
NOAPS
The National Oil and Acrylic Painters Society has accepted my painting "Looking West" for their National Exhibit "Best of America! 2011" This show will begin at the Dunnegan Gallery of Fine Art in Bolivar Missouri, before traveling to other locations. The exhibit opens September 11- October 28, 2011. Approximately 60 fine artists will be participating, lots of great art!
SCOTTSDALE SALON OF FINE ART
National Juried Exhibition and Sale
Hosted by The Legacy Gallery
Scottsdale, Arizona 480-945-1113
Two paintings, Osprey's Roost and Shining Through were selected for inclusion in the first Scottsdale Salon of Fine Art. Opening Reception and Awards Ceremony, was held April 22, 2011 from 6-9pm. The show exhibiton dates are April 21- May 19, 2011. Check out all of the wonderful art at www.scottsdalesalonfofineart.com.
What a great show this was, well attended and all of the art is just outstanding! And Legacy is such a beautiful gallery.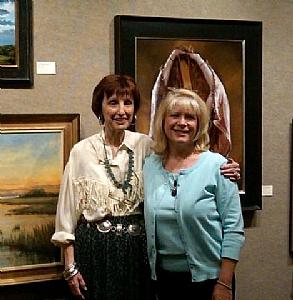 Joni Falk, who has always given me such support and encouragement.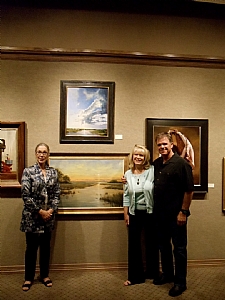 FAC's Kathleen Lawrence-Davis, me and my husband, Chuck, with my paintings "Shining Through" (top) and "Osprey's Roost" (bottom).
SALON INTERNATIONAL 2011
Greenhouse Gallery of Fine Art
San Antonio, Texas 210-828-6491
Exhibit Opening, Saturday April 2, 2011 from 10am to 8pm
Three of my paintings, Autumn Sunset, Coastal Squall and Summer Solstice were juried into this exhibition and sale, my third consecutive year. It is always a great show thanks to all of the staff there at Greenhouse Gallery.
It was great to see many old friends and familar faces!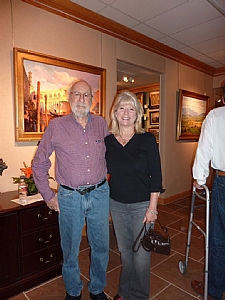 Daniel Greene, what a priviledge it was to meet him!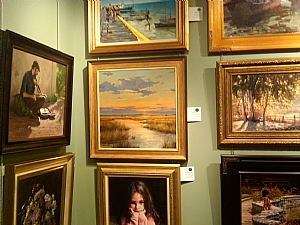 My painting, "Autumn Sunset" , in the middle above won Juror's Top 50 Award, and was sold at the show.
SOUTHWEST ART MAGAZINE
Paula Holtzclaw, one of Southwest Art's "21 ove 31" selected artists!

Click here to read the Southwest article featured in the November 2010 issue.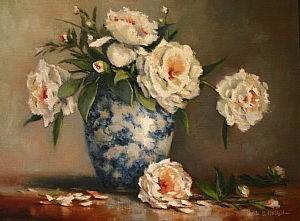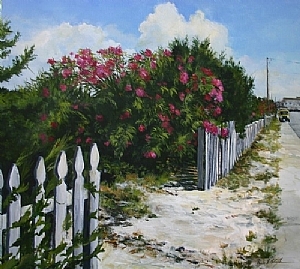 "Peony Cascade" "Red Oleander"
"Honorable Mention" Award "Honorable Mention" Award
Blossom II~ Art of Flowers
Blossom is sponsored by The Susan Kathleen Black Foundation.
Flowers were a favorite theme of artist Susan Kathleen Black (1948–2000). The mission of the Susan Kathleen Black Foundation is art education. The concept of an international, juried art competition and exhibition, the purpose of which is to recognize creative achievement in current art with a floral theme, was a natural outgrowth of this fortuitous combination. My 2 paintings above were selected for Honorable Mention recognition and will be in the exhibition catalog and in the on-line exhibition.(Dates will be announced soon) Blossom II drew 2300 entries representing 1350 artists from 35 countries, so while not included in the top 100 finalists who will be in the actual museum tour, this award is still a tremendous honor!
December 2, 2010:
I am pleased to announce that I am now represented by Highlands Art Gallery in historic Chester, N.J. The gallery carries an exceptional selection of traditional oil paintings and sculpture by notable artists from around the world. Highlands Art Gallery is a member of the National organization, Oil Painters of America. I hope you will visit them if you live nearby or are in the area. Visit them online at: http://www.highlandsartgallery.com/
It is quite an honor to be exhibiting again this year with the American Women Artists at their National Exhibition hosted this year by Southwest Gallery in Dallas, Texas. This year was their largest yet for number of entries received, over 1500, which had to be narrowed down to 62. So yes, it really is an honor! The exhibit opened with reception on Saturday, October 9, and runs through November 9, 2010. click here for AWA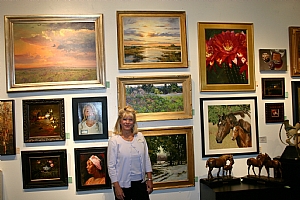 My painting, "Sunset, Banks Channel is above me, center top. As you can see, the art is quite outstanding.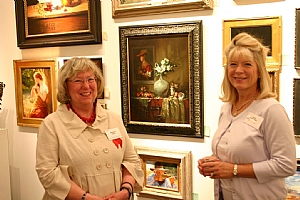 It was good to see Margret Short again, here with her wonderful still life painting. We had visited together earlier this year when we were both showing in the Salon International in San Antonio.
My painting "Evening Shadows" won the Myrtle Monteverde Memorial Award for "Best Impressionistic Painting" at the National Oil and Acrylic Painters 2010 Exhibit in Bolivar, Missouri! This show travels through several venues throughout Missouri, and for several months. For more information, click here
"Distant Rain" has been chosen as a FAV 15% finalist in the Boldbrush Painting Contest- June 2010

FAV 15%
Finalist
June 2010
//